Nitrogen generator SPN-500
Time:2012-12-13 10:26:22 Hits: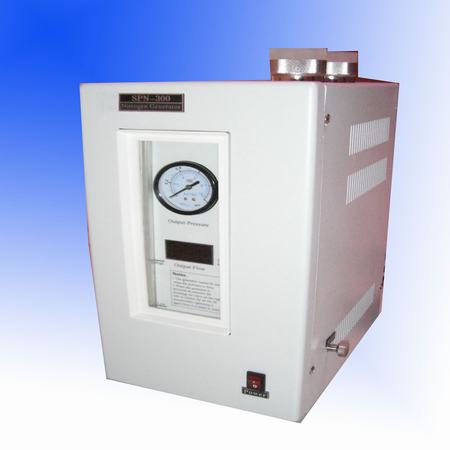 SPN-300/500, GCN-1000 Characters: -------------Recommend Model
1. Pressure, gas flow rate display, automatically stable pressure, stable output flow rate,
output gas is produced on demand, complicate automatically work.
2. Stainless steel made purifier, has deoxidizer inside ( no need to activation),
N2 output purity is higher; inside machine use silicon rubber ring ( lower content
sulfur), greatly increased gas output quality, guarantee GC basic line stable.
3. Equipped with safety parts, sensitive and reliable, auto anti catalyst returning.
4. Two levels purification system.
5. Have low and high pressure working condition, customer could select to use.
| | |
| --- | --- |
| Model | SPN-500 |
| Output Flow Rate(ml/min) | 0--500 |
| Output Pressure | 4bar |
| N2 Output Purity | O2 content≤3ppm, Dew Point: -56 0C |
| Input Power | <100w< span=""> |
| Input Voltage | AC220V±20% 50--60HZ |
| Input Water Requirement | distilled water. |
| Equipment Size( L*W*H) | 370*180*330mm |
| Equipment Net Weight | 10 |